Vintage Espresso Machines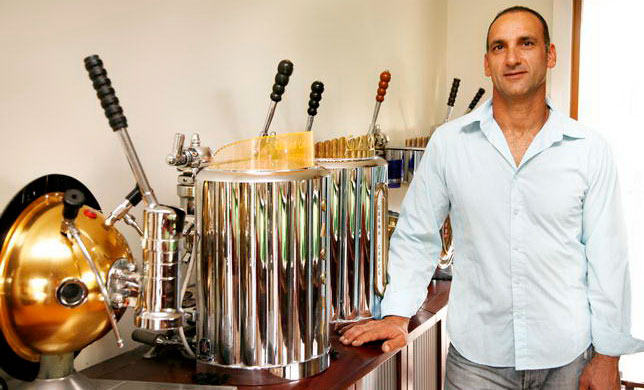 Vintage Espresso Machine Passion
Locating and restoring these classic espresso machines is a passion that I've had for over 10 years now. It's kind of a contagious bug that won't go away. Once I laid eyes on one of these beauties, I had to own one, and the only way to own one, it seemed, was to search the world.
So begins an unstoppable passion that must be fed, a quest to obtain and restore every vintage espresso machine (macchina caffe antica) that I can find. I have a day job, but often I cannot wait to get home and continue the quest. The ultimate goal, something worthy of display, to share with the world, my own exhibition, the Daniel Di Paolo Collection of Espresso Machine Classics...
It's taken me all over the world
Who would have thought that sourcing vintage espresso machines would take me, not only to Italy, but to most of Europe, USA and South America.
The best way of sourcing a machine in Italy or any part of Europe for that matter is by finding out who the local coffee machine repairer is. In most cafe bars there is a business card that is attached to the coffee machine. The card is placed there, warning off other machine repairers that the machine is already under contract for its service. Usually these technicians either repair the old machines and know who might have one or they may actually have one in there work shop. Another method is to attend all the antique flea markets as a lot of machines are found here and the prices are ridiculously low.
Sourcing a machine: The thrill of the chase
Once I get a lead, just a sniff of the machine I'm looking for, then there is no stopping me. Someone might mention a shop that they frequented as a child, or mention a friend who bought an old espresso machine some years ago. I will find out what happened to that machine, and it's usually not easy....
I have been searching for a particular machine for almost 2 years. The machine was seen by an old mechanic friend of mine in a shop in High Street Thornbury, in the late 70's. Knowing that it was seen in this period, I thought it would most likely still exist, given it was a fifties machine. The machine in question was a Faema Nettuno 4 group. Probably one of the rarest machines in the world.
Many sleepless nights thinking how was I to track the machine down. I began to trace back all the original shop keepers and owners dating back to the 1950's. Through Melbourne archives I was able to find who occupied the shops through the rate notices. Then searching through the phone book ringing and asking if anyone had operated a cafe in that period of time. The process was taking a long time so to short track it I placed adds in the Italian news paper ( il globo) then went on the Italian radio station. Still no luck. Eventually through the archives I was able to track the owner. The machine was located in his garage floor on the ground in pieces. I have put it back together and will now begin to restore it. With the machine came a rare grinder, the rarest of all Faema grinders. Although the machine was bought at a high price it was necessary to find because it had significant historical significance. It was sent in the 50's by this gentleman's father for him to start a new cafe business in High street, and through this machine he was able to sustain a family of 7 children. This was the find of the century particularly because of its historical significance. Nonetheless I wouldn't generally go to such extremes.
To a good home
Once you have found it, the quest is not over, because most people hold onto their vintage espresso makers, like babies. Eventually people come to realize that it's going to a loving home, to be cherished... it's my genuine passion that helps people to understand that I'm not in this for the money, but to revive something beautiful from the past and present it to today's generation. Each machine has a story and the people that cherish it along the way are all part of that story. The machines that make up my collection will have their story told. They will inspire a new generation to consider the place of quality, beauty and fine craftsmanship even in this modern world.
Daniel Di Paolo